Rex Maddock, Registered Occupational Therapist
Rex has been an Occupational Therapist since 1994, being the second year to graduate from Occupational Therapy at the University of Newcastle. He also holds a Bachelor of Health Administration. Prior to this he worked in the Ambulance Service. In the past 20 years, Rex has become well known in the region for his clinical practice across a range of areas including: Department of Veteran's Affairs' Patients, Psychiatry (15 years working Woodlands Ward and Karana Day Unit at Lingard Hospital and Lakeside Clinic Outpatient Unit and in Private Practice under the Better Access the Mental Health Care program), General Surgical Care, Occupational Rehabilitation CTP and Workers Compensation, Worker Compensation Expert Witness and Assessment for Medico-Legal Cases. Rex is committed to the care and advocacy of his patients, many of whom have been known to him for over 20 years. He engages other treating professionals in the care of his patients whenever possible. His practice is based on the belief that independent living and meaningful occupation should be optimised to achieve and maintain the best possible quality of life for everyone.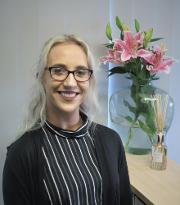 Shannah - Administration Manager
Home Visits and Falls Prevention for Dept. of Veteran's Affairs (DVA Gold and White Card Clients)
Prescribed Mobility Aids

Bathroom Equipment

Dressing and Showering Aids

Ramps & Rails

Wheelchairs / Walkers

Hand Splinting
Oedema Management
Bariatric needs
Continence Needs
Pressure Care
Electric Operated Beds and Recliner Chairs
Other Treatment Needs
Have you ever wondered what OT is?

Occupational therapy is a client-centred health profession concerned with promoting health and well being through occupation. The primary goal of occupational therapy is to enable people to participate in the activities of everyday life. Occupational therapists achieve this outcome by working with people and communities to enhance their ability to engage in the occupations they want to, need to, or are expected to do, or by modifying the occupation or the environment to better support their occupational engagement (WFOT, 2012).
Occupation is simple and intuitive to the experience of all humans...the things we do in our life roles, the things we do to be who we are, the things we do to create life and world into all it can become...however the finer details reveal there is more to occupation than meets the eye!
Occupation is. . .
Subjectively experienced…to one person the occupation of "shopping" feels like "a real chore", to another it's "fun", to yet another it's "a chance to relax". Activity can be classified into cultural categories such as "work", but each occupation is experienced as blend of productivity, pleasure and restoration
Situated in time…the meaning and function of occupation vary according to its location in the stream of time. Consider the meanings of a "shopping" occupation for an individual over time - shopping for lollies as a kid, shopping after a first pay check and shopping with a wheel chair for the first time
Universal...time and culture influence which occupations are meaningful and adaptive, however that humans have used occupation to survive, thrive, healing and health promotion is evident since the dawn of time.