Psychological care for Older Adults, Adults, Adolescents and Children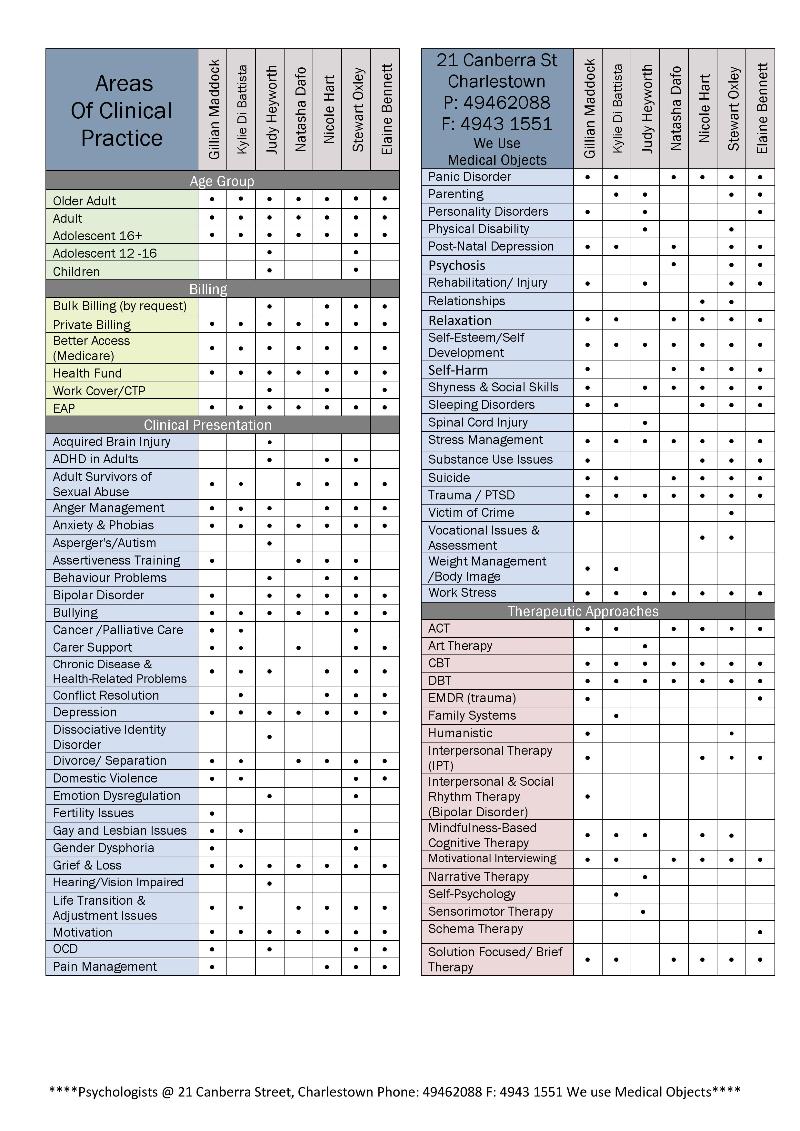 ****N.B.: Reports for legal purposes may not be provided by all therapists; please confirm with your psychologist at or before your first session if they will provide reports
Do I need a Referral?
No, you do not need a referral to see a Psychologist. However, a referral can reduce the cost of your care and there may also be other ways that you might be able to reduce the cost. How can you get to see a Psychologist?
Self-referral: A referral is not needed, however the full fee is payable at the time of the consultation
Mental Health Treatment Plan: GP or Psychiatrist can write a referral called a Mental Health Treatment Plan. This allows a Medicare rebate for an initial 6 sessions with potentially more sessions after GP review. Medicare rebates can be put through electronically at the time of your appointment.
Health Fund Rebates: Some health funds with cover Psychological Care - please check with your health fund. Health fund payments can be processed by HICAPS at the time of payment.
EPC: EPC is written by a GP and provides a maximum of 5 sessions with a lower rebate from Medicare
Work Cover: Workers Compensation/ CTP compulsory third party/ ComCare: The Nominated Treating Doctor (usually a GP) writes a referral. A claim number and written confirmation of approval for treatment services from the insurer is required before appointments can be attended. **** N.B.: Not all Psychologists offer services under Workers Compensation - please check with our office prior to making an appointment
Veterans and Veteran's Families Counselling Service: For referral contact the VVCS Newcastle office if you are a War Veteran or you have a family member who is a Veteran.
EAP / Employee Assistance Programs: Employers can nominate their EAP provider of choice and can contact our office to discuss options for engaging a psychologist
Fees?
Each Psychologist has different fees . Please contact us on 4946 2088 to confirm the cost of your session. A non-attendance or late cancellation fee (less than 24 hours) also usually applies - this may range between 50% - 100% of the consultation fee depending on clinician. The office should provide you with this information before your session.
Appointments are around 50 minutes in duration. Please arrive 10 minutes before your first session to complete the required paperwork and find a parking space if you are driving (there is no onsite parking).
What Can You Expect?
Psychologists have experience working with people with a vast range of issues that may have arisen recently or that may be more enduring.
It is important to feel there is a good match between yourself and the Psychologist. It is ok to talk to your Psychologist about whether you feel comfortable.
Initially you will be asked to describe your problems, when it began, what helps, what makes it worse and how it is impacts your life. Other questions might include your growing up years, relationships, education, work, medication and substance use.
It helps to develop an understanding of your difficulties with your Psychologist to find ways for you to better manage things you find difficult and make changes to the way you feel, think or act. The therapy approach will be evidence based for the presenting issue.
To achieve therapeutic goals it is important that there is commitment to attending scheduled sessions and sometimes doing personal "work" between sessions. You are encouraged to be actively involved in your progress to ask questions about your care.